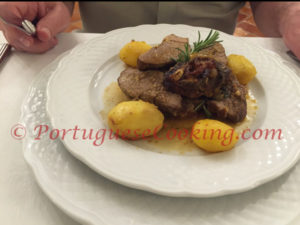 Carne Guisada com Batatas – Braised chuck roast is just what cold weather calls for. It uses the 7 – bone chuck roast, referred to by some as "blade meat" is the best choice for this dish The best use of blade and neck beef meat is to braise it slowly. This recipe is so very easy to do even a novice can do this. Just assemble as directed and enjoy the results. The meat obtains the ultimate tenderness and flavor. Using the blade roast with the bone, gives extra flavor to the dish. Make sure to serve with bread to sop up the juices.
Serves 4 to 6
1/2 cup olive oil
2 tablespoons butter
2 large yellow or Spanish onion, cut into 1/2 thick slices
3 large garlic cloves, smashed
1 bay leaf
1 1/2 tablespoons paprika
1/2 teaspoon Jamaican allspice
1/2 teaspoon ground marjoram or oregano
3-4 pound 7-bone chuck shoulder blade roast or boneless chuck shoulder roast
1 tablespoon coarse kosher salt or to taste
Fresh ground black pepper to taste
1/4 teaspoon crushed dried chili flakes
1 tablespoon tomato paste
1 1/2 cups white wine
1 1/2 cups water
2 tablespoons cornstarch
2 tablespoons cold water
2 pounds baby Yukon Gold potatoes, peeled
Preheat the oven to 350 degrees Fahrenheit. Warm the butter and olive oil in the bottom of a 5-quart oven-proof Dutch oven. Add the onions and saute over medium-high heat until glassy. Toss in the garlic, bay leaf, paprika, allspice, marjoram and mix well. Continue to cook the onions until they start to take on a little color, about 3 more minutes.
Take the roast, season with salt and pepper and place it on top of the onions. Combine the tomato paste with the wine and water and pour over the roast, covering it. Cover the pot and place in the preheated oven. Cook for 1 hour.
Mix the cornstarch and cold water then stir briefly into the pot. Add the potatoes over and around the meat. Recover and cook for 1 more hour. Meat will be falling off the bone tender.
admin
http://portuguesecooking.com/wp-content/uploads/2017/09/new-logo-ana-3.png
admin
2017-01-25 16:51:24
2017-01-25 16:51:24
Carne Guisada com Batatas - Braised Chuck Roast