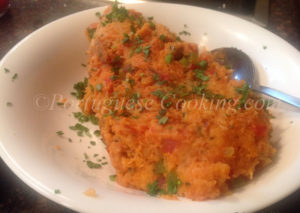 Serves 4-6
Very simple to make. Think of it as a Portuguese Stove-top stuffing. Fresh harvest tomatoes make this especially tasty.
1/4 cup olive oil
1/2 cup finely chopped onion
1/2 cup small diced, chourico sausage
2 cups, chopped very ripe peeled and seeded tomatoes
3 cloves garlic, finely chopped
1/2 sweet green pepper, chopped small dice
1/2 sweet red pepper, chopped small dice
Coarse salt to taste
White ground pepper to taste
1 bay leaf
5 cups shredded day old Portuguese or Italian bread, heavy crusts removed
1 cup water or as needed
1/4 cup finely chopped fresh cilantro or parsley, or to taste
Heat the olive oil in a skillet and saute the onions and chourico until the onions are translucent and just starting to color, about 3 minutes.
Mix in the tomatoes, garlic, bay leaf. Stir and cover. Simmer 10 minutes.
While tomatoes are simmering, combine the bread crumbs and water in a bowl. Soak just long enough to moisten. Drain water off and squeeze excess water from the bread with your hands.
When the tomatoes are ready, add the bread and incorporate thoroughly into the tomato base. Add the cilantro or parsley.
Keep cooking and mixing over medium-low heat until any excess moisture is evaporated.
Heat. Roll the migas back and forth in the skillet, giving it an oblong shape. Roll out onto a serving small platter.
admin
http://portuguesecooking.com/wp-content/uploads/2017/09/new-logo-ana-3.png
admin
2016-12-06 19:39:22
2016-12-06 19:39:22
Migas de Tomate (Tomato and Bread Stuffing)