Serves 4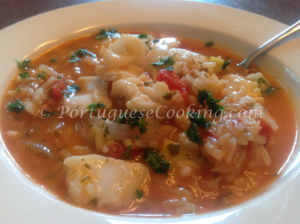 Summertime calls for lighter fare. If you are tired of fried and baked fish dishes, give this flavorful stew a taste. It is my updated Portuguese fish dish with flavorful elements of flavor that excite the taste buds. No need for the salted version of codfish. Fresh codfish loin works perfectly without the need of desalinating the fish.
3 tablespoons olive oil
1 large onion, cut lengthwise in thin slices
2 cups chopped, seeded tomatoes
1 bay leaf
3 garlic cloves, finely chopped
2 tablespoons finely chopped parsley, divided
2 tablespoons finely chopped cilantro, divided
1 generous teaspoon sweet paprika
pinch crushed dried chili pepper
1/2 cup white wine
1 cup clam stock, fresh or bottled
3 cups fish stock or water
1/2 cup, 1/2-inch diced boiling potato
1/2 cup rice
Salt to taste, as needed
White ground pepper, as needed
1 1/2 pounds fresh cod loin, scrod or other firm white fish
1/2 pound shelled and deveined shrimp (optional)
1/2 pound scallops (optional)
Heat the olive oil in a 5-quart soup pot until hot but not smoking. Add the onions and saute over medium-high heat until glassy. Mix in the tomatoes, garlic, 1/2 of the parsley, 1/2 half of the cilantro, paprika and chili pepper. Cover and simmer over medium heat just until the tomatoes are married with the onions.
Pour in the wine, simmer one minute then add clam stock with the fish stock or water. Add the potato, cover and bring to a boil over medium-high heat. When boiling, reduce the heat to medium and simmer until the potato pieces are almost done.
Add the rice, salt and pepper. Stir. Recover and simmer for 10 minutes. Add the fish, simmer 2 minutes. If using, mix in the shrimp and scallops. Continue cooking for 5 minutes more. Adjust seasoning to taste. Ladle into bowls and garnish with remaining chopped parsley and cilantro.
admin
http://portuguesecooking.com/wp-content/uploads/2017/09/new-logo-ana-3.png
admin
2017-09-16 13:40:42
2017-10-18 16:55:15
Fresh Codfish Loin Stew - Caldeirada de Peixe