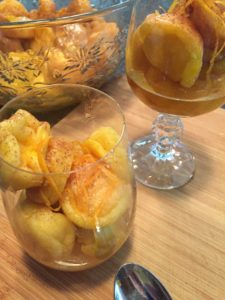 Papos de Anjos, is one convent sweet according to oral history of how nuns in the convent utilized the egg yolks that remained after using the egg whites to stiffen their habits.  True or not, convent sweets became very popular with some extremely sweet.  Variations to this sweet dessert usually are pointed to the number of eggs yolks, whole eggs and whether the whites are separated and whipped separately before incorporating into the beaten yolks.  Some have added cornstarch that I really didn't see it as a necessary addition. These really are flavorless without the syrup.  The basic sugar syrup is usually very sweet but you can make a lighter, thinner syrup by cutting the amount of sugar by 1/2 to 1 cup. Just boil a  few minutes longer.  Usually flavored with lemon, feel free to change it up as I did with orange. This recipe isn't complicated or difficult but it sure satisfies the sweet tooth.
Angel's Chins (Papos de Anjos)
Serves 6
You will need:
1-2  non-stick  mini-muffin pans with 2 ounce wells or if you wish to make them larger, use individual ¼ cup pasteis de nata tins-
Butter for greasing, room temperature
8 large egg yolks
2 large whole eggs, separated
2 cups sugar
2 cups water
1 stick cinnamon
Peel of one orange
1 tablespoon Portuguese  Beirão liquor or Grand Marnier
Preheat the oven to 400° F
1.  Using the soft butter, grease the wells of the muffin pans.
2.  Using a hand-held mixer, beat the 10  egg yolks until thick, pale yellow, double in volume, and falling like ribbons from the beaters onto the surface of the yolks.
3. In a separate bowl, whip the egg whites until soft peaks form. Fold the whites into the pale yellow yolks.  Spoon 1 generous to 2 tablespoons into each well.  (1 Tb per well will give you almost 48 papos)  Immediately place on the center rack of your preheated oven and back for exactly 6 minutes, until lightly golden.
4.  Remove from the oven, then with a little prodding from a wooden skewer, release from the pan and allow to cool completely.
While they are cooling, make the syrup.
1. In a 2 quart saucepan, combine the sugar, water, cinnamon stick, orange peel and liquor.  Bring the contents to a boil and then boil for 3 to 4 minutes until slightly thickened. Remove cinnamon stick and reserve the orange peel to air dry.  Set aside until it is lukewarm.  On a cutting board, slice the orange peel into skinny slivers. 
2.  To serve, transfer the chilled papos to a serving bowl. Pour the cooled syrup overall and very gently, turn to coat completely.  Let stand 15 to 20 minutes.  Serve 6-8 pieces in individual dessert glasses or ramekins with some of the syrup, garnished with slivers of orange peel and a dash of ground cinnamon if desired.  Serve room temperature or chilled.
admin
http://portuguesecooking.com/wp-content/uploads/2017/09/new-logo-ana-3.png
admin
2017-07-24 17:28:56
2017-10-18 17:05:58
Angel's Chins -Papos de Anjos