Sopa de Espirito Santo (Holy Ghost Soup), from my book Portuguese Homestyle Cooking, is version which happens to come from the island of Graciosa.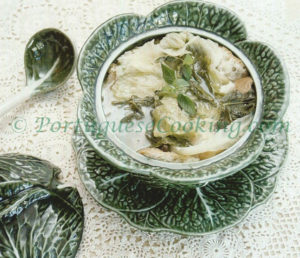 Serves 6
1 small onion, finely chopped
5 whole garlic cloves
1 bay leaf
½ cup white wine
10 cups water
1 ½ to 2 pounds fowl or chicken
¼ pound bacon, chopped
½ pound beef shoulder bone
½ pound beef chuck or brisket
½ pound linguica
¼ pound beef liver (traditional but optional)
1 pound red bliss potatoes, peeled, cut into 1 inch cubes
Coarse salt to taste
3 Jamaican Allspice berries
1 pound kale or collard greens, rinsed, trimmed of heavy stems and torn into 1-2 inch pieces
1 small head Savoy cabbage, cored and cut into quarters
3 sprigs mint
5 to 10 ounce day-old Portuguese country bread or crusty sour dough bread
1. Bring to a boil, in large stockpot, the onion, garlic, bay leaf, wine, and 8 cups of the water.
2. Add the fowl or chicken, bacon, beef shoulder bone, beef chuck and sausage. Return to a boil.
Then reduce the heat to medium-low and simmer the meat until nearly tender.
3. Separately, if using the beef liver, bring the remaining water to a low simmer. Poach the liver in the simmering water until just tender and slightly pink in the middle, about 5 minutes. Remove and set aside.
4. As the meats become tender, remove the meats from the large pot, transferring them to a dish. Cover and keep warm. Strain the broth and return to the pot. Add the potatoes to the broth, salt and allspice. Bring to a boil, reduce heat and simmer for 10 minutes. Add the kale and cabbage and simmer for another 15 minutes until potatoes are done. Toss in 1 mint leaf and shut the heat.
5. Discarding the bones, gristle, fat, cut the reserved meats, sausage and chicken into serving pieces. Transfer to serving platter. Dice the liver and place in a separate dish.
6. To serve, place a few torn pieces of the bread in a soup tureen. Ladle in some of the broth and let it rest 5 minutes. Fill the tureen with additional soup. Garnish the top with remaining mint leaves. Place an additional bread slice in each soup plate. Ladle the soup over and serve the meat on the side. Buttered rice can be served with it.
admin
http://portuguesecooking.com/wp-content/uploads/2017/09/new-logo-ana-3.png
admin
2017-05-31 14:39:02
2017-05-31 14:39:02
Sopa de Espirito Santo (Holy Ghost Soup)