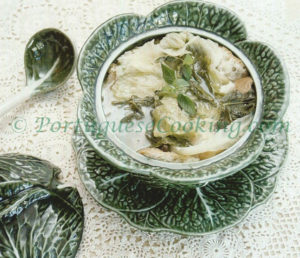 The celebration of the Holy Ghost, Festa do Espirito Santo, according to oral history, originated from two religious experiences during the 16th century. Since that time, particularly in the Azores, a celebratory meal of thanksgiving follows a mass and procession concluding the seven week Easter season, on Pentecost Sunday. Even as a young child, I knew that the event had special meaning as I walked in the procession wearing a white dress and carrying a bouquet of red roses. (Read more in Portuguese Homestyle Cooking)
Holy Ghost Soup, Sweet Bread and Sweet Rice are the traditional meal for this celebration.
The recipe for Holy Ghost Soup as it is made on the island of Graciosa is posted in the soup section of this website.
admin
http://portuguesecooking.com/wp-content/uploads/2017/09/new-logo-ana-3.png
admin
2017-05-31 14:51:19
2017-05-31 14:51:19
Celebration of the Holy Ghost