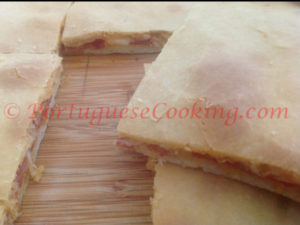 From Tras os Montes (Behind the Mountain), a traditional but simple pan bread, stuffed with presunto (prosciutto) makes a light but simple snack, starter or part of a light meal. Beyond the original form of presunto encased in a flat layer of dough then baked, if you are not fond of presunto, then by all means use chourico sausage. Get creative with a contemporary touch if you want and add some grated soft melting cheese. This is what you will need. You can make the dough by hand or use a stand mixer with a dough hook .
One sheet pan sized: 11 x 18 inches by 1 inch deep or 12 x 16 inches by 1 inch deep
olive oil as needed
2 teaspoons yeast
1 cup lukewarm water
4 cups flour
8 tablespoons (1 stick ) butter, almost room temperature, in cubes
1/2 teaspoon table salt
12 to 14 ounces thinly sliced presunto (prosciutto) or chourico
*Contemporary variation: 1 cup grated melting cheese
With a brush, coat the insides of the sheet pan with some olive oil and set aside.
In a small cup, combine 1/4 cup of the water with the yeast and set aside to proof for about 5 minutes.
Dump the flour in a large bowl or the bowl of a stand mixer.
Add the pieces of softened butter and with your hands, rub the flour with the butter until crumbled in. Sprinkle the salt over the flour and butter. Using your hand or the mixer with a dough hook, slowly mix in the remaining 3/4 cup of water. Mix well until flour is all incorporated. Knead for about 10 minutes. If you are using the mixer, mix until the dough is formed and is pulling away from the sides of the bowl, leaving it clean. Place in a bowl or dough rising container, cover tightly and set aside to rise until double, about 1 1/2 hours. Preheat the oven to 450 degrees F.
Dump the risen dough onto a lightly flour workspace. Remove 1/3 of the dough and set aside. Roll the remaining dough out to a little larger than the size of the pan.
Transfer to the well oiled sheet pan. With your hands or pastry brush, generously coat the top of the dough with olive oil, pushing the dough stretching it, if necessary, to fit the pan.
Top the dough with a generous layer of slices of presunto (or chourico if you prefer). * If using cheese, scatter it over at this point.
Roll out the remaining 1/3 piece of dough. Transfer it to cover the filling. Pinch the edges of the top and bottom doughs together to seal. Generously brush the top with olive oil. Bake in the preheated oven until golden, about 30 minutes. Serve hot or room temperature.
admin
http://portuguesecooking.com/wp-content/uploads/2017/09/new-logo-ana-3.png
admin
2016-07-24 20:53:49
2017-09-15 04:59:56
Presunto Bread of Lamego (Bola de Presunto)