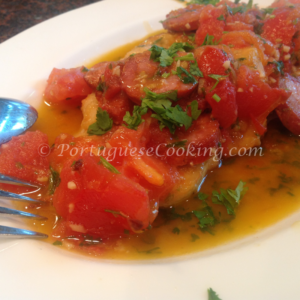 Funny how, whether it is for grilling, Saturday night dinners, guests or plain indecisiveness, chicken is a great economical option to fall back on.Yesterday, was such an occasion. In a hurry, had some options but I had chicken breasts in the refrigerator staring back at me. Almost shouting, pick us, pick us. I didn't go for the traditional, instead, I would say I winged it with some traditional Portuguese elements of flavor. Served it with some steamed spinach, drizzled with olive oil, garlic and vinegar and I was done. So here is my creation. Hope you like it.
Let me know what yummy dishes you are "clucking" up with your chickens.
Cilantro Chicken with Tomatoes
Serves 4
4 boneless chicken breasts, butterflied
Fresh ground pepper to taste
Coarse kosher, salt to taste
1 cup all-purpose flour, as needed
1/3 cup olive oil
3 tablespoons finely chopped scallions
1/2 cup finely chopped fresh cilantro, divided
4 ounces, linguica or chourico sausage, sliced crosswise into 1/8 inch rounds (optional)
1 1/2 cups peeled, seeded, fresh tomato, cut into roughly 1-2-inch pieces
2 garlic cloves, finely chopped
1 teaspoon sweet paprika
1/4 cup white wine
Season the chicken breasts with salt and pepper. Lightly coat the chicken in the flour, shaking off excess.
Heat the olive oil in a large skillet over medium-high heat until it is hot but not smoking. Brown the chicken for about 3 minutes each side, until medium golden, turning only once. Transfer to a plate.
To the drippings, add the scallions, one half of the cilantro, the sausage slices. Cook for 1 minute over medium heat until the sausage slices take on some color. Add the tomatoes, garlic and paprika. Bring to a simmer, and cook for just 1 minute. Pour in the white wine, stir and return to a simmer.
Return the chicken to the pan, nestling the pieces into the sauce. Cover tightly, reduce the heat to medium-low and simmer 2 more minutes, until the chicken is cooked through. Transfer everything to a serving dish and garnish with remaining cilantro.
admin
http://portuguesecooking.com/wp-content/uploads/2017/09/new-logo-ana-3.png
admin
2016-07-05 20:35:01
2016-07-05 20:35:01
Something about Chicken- Cilantro Chicken