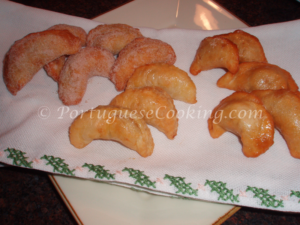 Makes about 3 1/2 dozen
Very popular around Christmas, this pastry is very similar to another pastry called Azeveias. Read the recipe through to make sure you have all the ingredients. Though it is a little bit of work, it is worth the while. You can substitute pumpkin or sweet squash as an alternative. An orange-infused honey glaze is a variation of the finish.
4- medium sweet potatoes, scrubbed, unpeeled, left whole
In a medium pot, cover the potatoes with water and bring to a boil. Cook until tender, about 25 minutes, and drain. When cool enough to handle, peel and puree the potatoes. Set the puree in a mesh strainer set over a bowl. Cover and chill overnight to allow excess water to drain.
Next day, make the filling:
3- firmly packed cups, well-drained sweet potato puree
1 1/2 cups sugar
Grated peel of 1 orange
1 1/2 teaspoons ground cinnamon
2 egg yolks
Combine the ingredients in a medium bowl until well blended.
Make the dough:
4 cups all-purpose flour
1 cup orange juice
1/2 cup butter, melted
1/4 cup lard or Crisco, melted
Generous 2 tablespoons of your favorite brandy
Egg wash
Corn oil for frying
1 cup sugar mixed with 1 teaspoon cinnamon
Parchment paper
Sheet pan
Pile the flour into a large bowl. Make a well in the center. While stirring pour in the melted butter, Crisco and brandy. Pulling in the flour as you mix, add the orange juice in small increments, until a medium dough is formed. Dump the dough on your workspace and knead until smooth, about 4 minutes.
Working in small batches, roll out the dough to about 1/16 thin Using a 3-inch diameter biscuit cutter, cut the dough into circles.
Place a spoonful of filling in the middle. Brush the edges with egg wash. Fold the dough in half, covering the filling and pinch the edges to seal. Place on a parchment lined sheet pan, giving a slight bend to the pastry.
Repeat with remaining dough. Heat the corn oil to 350°F. Fry the pastries until golden.
Coat with the cinnamon sugar. You can also make a honey glaze to drizzle over by heating 1 cup of honey over low heat with the peel of 1 orange for about 20 minutes. Remove the peel and drizzle over the trutas.
admin
http://portuguesecooking.com/wp-content/uploads/2017/09/new-logo-ana-3.png
admin
2016-03-09 20:33:10
2016-03-09 20:33:10
Trutas (Sweet Potato Pastry)