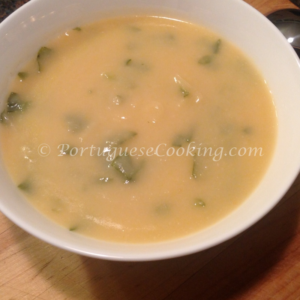 Stray pantry items make wonderful additions to a pot luck soup.  Though dried beans are better, canned, rinsed kidney beans can be used if time is short.  Be mindful of the salt content of canned beans.
For the Beans: 
2  cups dried white kidney beans
If using dried beans, soak them overnight in a bowl covered by 2 inches of water. Drain the next day, place the beans in a pot with fresh water and bring to a boil. Reduce the heat and simmer for 45 minutes until tender. Reserve Makes about 4 cups.
For the Soup:
8  cups water
1 large yellow turnip (rutabaga), cut and peeled (about 6 cups)
Two 14-ounce cans  white kidney beans or 4 cups precooked dried beans
1/2  cup chopped onion
2   medium carrots, peeled and cut into small chunks
1 boiling potato, peeled, cut into medium chunks
1/4  cup olive oil
1  garlic clove
2 cups chopped cabbage, rinsed
2  cups chopped kale, rinsed
2  teaspoons coarse salt if needed or to taste
1/4  teaspoon fresh ground white pepper or to taste
 In a large soup pot, about 5 quarts, combine the water, chopped turnip, beans, onions, carrot and potato pieces and garlic. Cover and bring to a boil.  Reduce the heat to medium-low and simmer until the vegetables are very tender.
Using a stick blender, puree the contents of the pot.  Return the soup to a boil, add the cabbage and kale.  Simmer for 15 to 20 more minutes until the greens are tender  Season with salt and pepper to taste.
http://portuguesecooking.com/wp-content/uploads/2018/02/creamy-turnip-soup-with-white-kidney-beans-sopa-cremosa-de-nabo-com-feijão-branco2.jpg
360
640
admin
http://portuguesecooking.com/wp-content/uploads/2017/09/new-logo-ana-3.png
admin
2016-03-09 21:07:09
2018-02-12 19:15:04
Creamy Turnip soup with White Kidney Beans (Sopa Cremosa de Nabo com Feijão Branco)