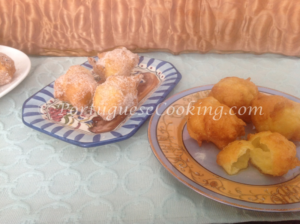 These are a bite-size or two of yum! One of my father's favorites. You can update it by piping in some custard or preserve filling but they are wonderful as they are. These are often seen on the Christmas and Carnival dessert tables.
Make the syrup ahead or alternatively mix 1 cup sugar with 1 teaspoon cinnamon
1/2 cup sugar
1 cup water
2 tablespoons brandy
peel of one orange
Combine the ingredients n a saucepan, bring to a boil the reduce the heat and simmer for 15 minutes. Discard orange peel.
For the puffs:
1 cup water
1/2 cup butter
1/4 teaspoon salt
1 cup all-purpose flour
4 eggs, room temperature
corn oil for frying
Bring the water, butter and salt to a boil in a 2-quart pan. When the butter is melted, reduce the heat. Dump in the flour and beat furiously until the mix has pulled away from the sides of the pot
Remove from the heat and cool slightly. Add the eggs one at a time, beating well with a wooden spoon after each addition, incorporating air.
Deep fry rounded walnut-sized amounts in the hot oil until medium golden. Toss onto paper towels then arrange on a platter and drizzle the syrup over. Alternatively, mix the sugar and cinnamon and sugar on a plate. Do not drain the freshly fried puffs on paper towels but toss them in the sugar to coat. Do not cover while they are hot.
admin
http://portuguesecooking.com/wp-content/uploads/2017/09/new-logo-ana-3.png
admin
2016-02-01 22:39:09
2016-02-01 22:39:09
Sonhos (Dreams)