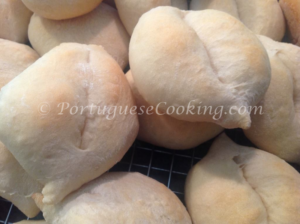 To some, this can be a complicated recipe. So if there is a question on directions please contact me.
This adapted version is modified in grams for those of you who use the metric system for baking.
This is a small batch that makes approx. 22- 2.5 ounce rolls
Total flour 900 g of Hard spring wheat- High Gluten 14%
75% hydration but you can try 80% in less humid weather
For the poolish starter:
120 g flour (KA high gluten)
120 gr water
7 gr commercial instant yeast
Mix flour and water and let stand for a minimum of 6 hours or overnight chilled.
Mix in yeast.
For the dough:
780 gr high gluten KA (King Arthur) ( 6 cups scooped and leveled)
23 g room temperature lard or shortening
24 g granulated sugar
7 grams instant yeast (second addition)
18 gr fine table sea salt
555 g water
With your hands rub the flour with the lard or shortening, dispersing it evenly. Add the sugar and second amount of yeast, mixing with your hands to blend evenly.
Mix in the starter and the water on low speed of your mixer for 5 minutes. Change to the dough hook and mix for 10 minutes. Scatter the salt over the dough. Return to mixing on a medium-high speed to develop the gluten for 5 minutes more. Turn the dough out onto your workspace.
Knead by slapping it on the space, pull towards you to stretch and fold away from you onto itself. Repeat this French form of stretch and fold for 5 to 10 minutes until the windowpane test can be achieved successfully. Set in a dough rising bucket and cover or cover and let rise on your workspace for 1 hour.
Do 1 stretch and fold, recover and rest for 1 more hour. Divide and scale the dough to 2.5 ounces. Roll into balls and set rest, covered for 15 to 20 minutes.
On your workspace, flatten each ball with the palm of your hand. Dust with flour. Use the side of your palm to nearly divide the disc in half, leaving an impression. Fold the dough disc, in half and set with fold edge up, on flour lined linen or couche. Make a row and pull up cloth to cover and separate.
Let rise for about 45 minutes. Meanwhile preheat oven 500°F, stone slab and a steam pan.
To Bake:
Place rolls upside down so the opening faces upwards, in rows on the oven shovel. Slide onto the hot stone, add the ice cubes for the steam and bake for 15 to 20 minutes until golden.
admin
http://portuguesecooking.com/wp-content/uploads/2017/09/new-logo-ana-3.png
admin
2015-09-11 19:22:23
2015-09-11 19:22:23
Papo Secos-Crusty Rolls