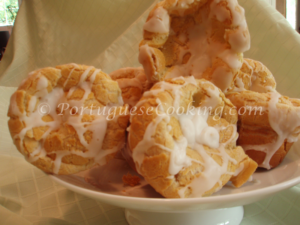 This is a very popular dessert or snack, especially around Christmas and Carnival time. For an added treat, drizzle a tablespoon of the Portuguese Beirao liquor.
9 x-large eggs
1 cup olive oil
2 cups flour
1/2 tsp table salt
2 cups confectionery sugar
2-3 tbl water or milk
1 teaspoon vanilla or lemon extract
Preheat oven to 350° F.
Using the high speed of an electric mixer, whip the eggs until they are very well beaten, about 1 minute. Still beating, gradually incorporate the olive oil. Sift the flour and salt together and gradually fold into the egg batter. Continue to beat on medium speed for about 10-15 minutes more, incorporating air into the batter.
Generously oil popover or muffin pans. Pour the batter in so that it fills each cup about half full.
Place the pans in the preheated oven and bake the cavacas for about 45 minutes until nicely golden. Do not open the oven door during the entire baking process or the cavacas may collapse.
Remove from the oven when done and cool slightly. Remove them from the pans.
In a small bowl, whisk together the sugar and 1 tablespoon of water or milk and the vanilla. It should be smooth with the consistency of very thick cream. Add more of the water or milk if needed to achieve the right consistency. Please note that if you use milk, the icing will take longer to dry.
Drizzle the icing lightly over the cavacas while they are still a little warm. Let icing dry before serving. Store in an airtight non-metal container.
http://portuguesecooking.com/wp-content/uploads/2017/09/new-logo-ana-3.png
0
0
admin
http://portuguesecooking.com/wp-content/uploads/2017/09/new-logo-ana-3.png
admin
2000-01-25 15:58:59
2000-01-25 15:58:59
Cavacas (Sweet Iced Popovers)