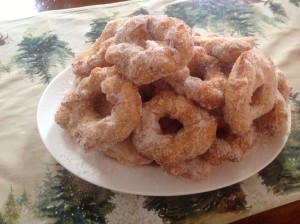 Makes about 3 dozen
This recipe comes from my friend Dilia. I have cut the recipe in half. The number of fritters depends on the size you make them but don't make them too small Dilia instructs or they will not expand as much. If you make them too large, they will be too heavy and absorb too much oil, in order to cook them thoroughly.
1 package dry yeast
¼ cup 110 degree F. water
1 tablespoon sugar
2 cups whole very warm milk
½ cup warm water
2 ½ pounds all purpose flour
6 large eggs lightly beaten
½ teaspoon cinnamon
½ teaspoon table salt
Juice of 1 lemon
3 tablespoons butter, melted
Corn or vegetable oil for frying
Extra sugar for coating
Combine the yeast in a small bowl with the warm water and 1 tablespoon of sugar. Stir together and let stand for 10 minutes to proof.
Heat the milk and water together in a saucepan until just scalding or tiny bubbles form around the edge.
Dump the flour in a large mixing bowl. Make a well in the middle. Pour the beaten eggs in the well along with the proofed yeast mix, the cinnamon, salt and lemon juice. Give everything a stir. Gradually mix in the warm milk and water. Mix everything well and the knead for about 10 minutes.
Pour 1 tablespoon butter over the top and pull the dough over, folding the butter in.Cover well and set in a draft-free spot. After ½ hour, pour a second tablespoon of melted butter over and pull the dough over to knead it in. Repeat this for a third time. After a final half hour check the dough. It should be double in size and not spring back when pressed with your finger.
The dough will be a bit sticky. If you add too much flour the fritters will be heavy. Heat the oil in your fryer until it reaches 350 degrees F. and starts to shimmer or have slight movement. Have a paper bag with about 2 cups of sugar in it. Traditionally a flat dish with sugar is used but a bag is easier.
Coat your hands in oil so that the dough will not stick to your hands. (Some people use butter but the oil seems to work better and longer). Remove pieces of dough about the size of a plum. Do not flatten it. Using a thumb, punch a hole through the middle and together with the other, giving the hole a slight stretch. This takes a little practice.
Place in the hot oil. Do not turn the fritter until the top starts to show expansion and a bit of bubble. Turn over and continue to fry. Cook until lightly golden. Transfer the fritters to the sugar bag. Twist the top and shake to coat. Remove the fritter and place on a serving dish. Repeat until all the dough is fried. You can also add additional cinnamon to the sugar bag if desired.
http://portuguesecooking.com/wp-content/uploads/2017/09/new-logo-ana-3.png
0
0
admin
http://portuguesecooking.com/wp-content/uploads/2017/09/new-logo-ana-3.png
admin
1999-04-20 23:09:13
1999-04-20 23:09:13
Graciosa Style Fritters - Filhoses a Moda de Graciosa